Why don't Google My Business Pages & Google Maps Listings work properly during COVID-19? 
During COVID-19 pandemic Google Limited Google My Business and Google maps Listing functionality. It might seriously affect your local SEO.
What are the major changes?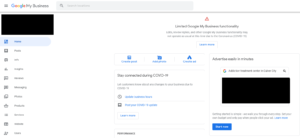 Review replies are now available.
New user reviews, new user photos, new short names, and Q&A might be paused and will gradually return by country and business category. Google is going to publish gradually delayed user reviews and photos submitted to Google Maps.
Businesses might experience publishing delays for other edit types or when contacting support about these pending edits.
Delays for publication of new listings, claims, and verifications for some types of businesses to Google Search and Maps.
Updated for specific industries and categories. For example, changes in April 2020 for health care providers and medical professionals.
What else should I do?
Goole issued really useful sources to navigate small and local businesses during the Coronavirus pandemic. Please,  subscribe to Google for small business updates and read Covid-19 updated.